6 Tips to Help You Get Ready for Dental Visits in Albury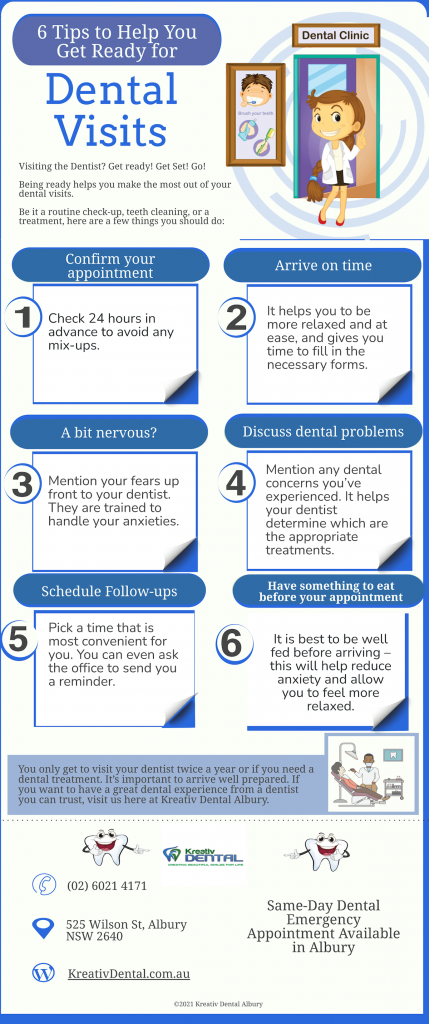 Visiting the dentist? Get ready! Get set! Go!
Being ready helps you make the most out of dental visits.
Whether it is a routine dental check-up, teeth cleaning, or a treatment, here are a few things you should do:
#1 Confirm your appointment
Check-in, 24 hours advance, to avoid any mix-ups and confusion.
The time scheduled is set by our dental team to serve you and ensure you're receiving the best dental treatment.
So, make sure you confirm your appointment!
#2 Arrive on time
Showing up for your dental appointment on time helps you relax; it also gives you time to fill out any necessary forms.
If you are a new patient, your Albury dentist will need you to fill out some forms, so make sure to arrive early if you can.
#3 A bit nervous?
Mention your fears upfront to your Albury dentist. They are trained to handle your dental fears and anxieties.
#4 Discuss dental problems
Mention any dental problems you've experienced. It helps your Albury dentist determine the appropriate treatments to perform.
#5 Schedule Follow-ups
If you are a busy person, select a time that is most convenient for you.
You can even ask us to send you a reminder in advance before your appointment.
Schedule follow-up check-ups, especially if you receive treatments that need to be checked on from time to time, like new dentures, teeth whitening touch-ups, or veneer and crown fittings.
#6 Eat something before your appointment
Have something to eat before arriving for your appointment – this will help reduce anxiety and allow you to feel more relaxed.
Remember that sometimes your Albury dentist will need to administer sedation, which means that eating after your appointment won't be easy, and it can certainly be very messy!
At Kreativ Dental Albury, we appreciate it when our patients brush their teeth before coming in for their appointment, but if you can't, don't worry; your Albury dentist is used to removing food stuck between teeth.
Creating Smiles in Albury!
You only get to visit your dentist every 6 months or if you need to receive dental treatments. It's important to arrive prepared!
If you want to have an enjoyable and high-quality dental experience from a trusted dentist, visit us here at Kreativ Dental Albury.
For more information, give us a call on (02) 6021 4171  or request your appointment online.
We are located at 525 Wilson St in Albury.