6 Tips to Help You Get Ready for Dental Visits in Albury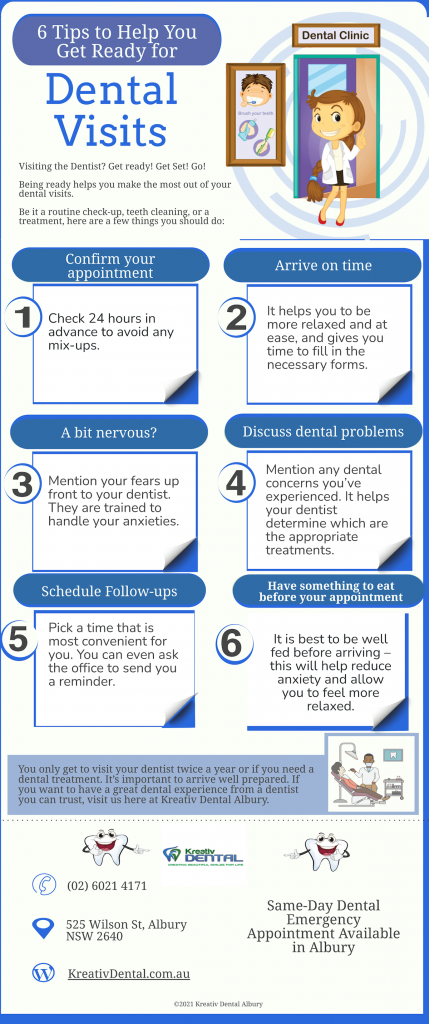 Are you visiting the dentist? Get ready! Get set! Go!
Being ready helps you make the most out of dental visits.
Whether it is a routine dental check-up, teeth cleaning, or treatment, here are a few things you should do:
#1. Confirm your appointment
To ensure a smooth and hassle-free experience, take a moment to double-check your appointment 24 hours before your scheduled dental visit.
This simple step helps avoid any potential mix-ups or confusion, allowing our dedicated dental team to serve you and efficiently provide the best possible dental treatment.
Your appointment is specially reserved for you, and your confirmation ensures that all arrangements are in place to meet your dental needs.
So, don't forget to confirm your appointment and let us continue prioritising your oral health with the utmost care.
#2. Arrive on time
Showing up for your dental appointment on time helps you relax; it also gives you time to complete any necessary forms.
If you are a new patient, your Albury dentist will need you to fill out some forms, so make sure to arrive early if you can.
#3. A bit nervous about your dental visit?
If you're a bit nervous about your dental visit, it's perfectly normal, and we're here to help! If you have any fears or anxieties about your dental visit, don't hesitate to share them with your dentist.
Our team is well-trained to handle and address your concerns, ensuring your experience is as comfortable and stress-free as possible. We are committed to making your dental visit positive, and by discussing your concerns upfront, we can customise our approach to meet your specific needs.
So, feel free to express any worries, and let us work together to make your dental visit a positive and reassuring experience.
#4. Discuss dental problems
During your dental appointment in Albury, take the opportunity to openly discuss any dental problems or concerns you may have experienced. Your dentist is here to listen and understand your issues, allowing for a more comprehensive oral health evaluation.
By sharing your dental history and any ongoing problems, you help your Albury dentist to tailor the most suitable and effective treatments for your unique needs. Whether you've been experiencing discomfort, sensitivity, or any other dental issue, providing this information ensures that your dentist can address these concerns with precision and care.
Open communication about your dental experiences allows for a more personalised approach to your oral health. Your Albury dentist is dedicated to creating a comfortable and effective treatment plan that meets your requirements, so don't hesitate to share any dental challenges you've encountered.
#5. Schedule Follow-ups
If you are busy, select a time that is most convenient for you.
You can even ask us to send you a reminder before your appointment.
Schedule follow-up check-ups, especially if you receive treatments that need to be checked on from time to time, like new dentures, teeth whitening touch-ups, or veneer and crown fittings.
#6. Eat something before your appointment
Having something to eat before arriving for your appointment will help reduce anxiety and allow you to feel more relaxed.
Remember that sometimes your Albury dentist will need to administer sedation, which means that eating after your appointment won't be easy and can be very messy!
At Kreativ Dental Albury, we appreciate it when our patients brush their teeth before coming in for their appointment, but if you can't, don't worry; your Albury dentist is used to removing food stuck between teeth.
Creating Smiles in Albury!
You only get to visit your dentist every 6 months or if you need to receive dental treatments. It's important to arrive prepared!
If you want an enjoyable and high-quality dental experience from a trusted dentist, visit us here at Kreativ Dental Albury.
At Kreativ Dental Albury, we are committed to providing secure and efficient dental care. We provide custom-made treatments just for you!
Visit your Albury dentist today!
For more information, call (02) 6021 4171 or request an appointment online.
We are located at 525 Wilson St in Albury.