Dental Implants
Have you lost a tooth because of decay, trauma or gum problems? We can help!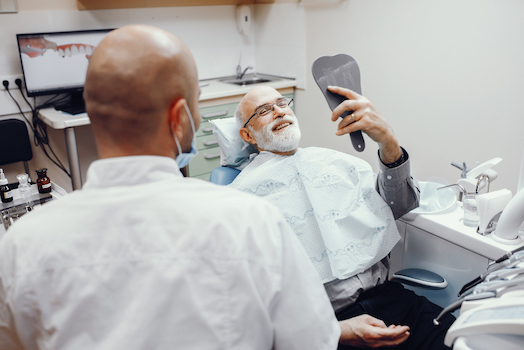 Dental Implants Albury
If you're looking for a permanent solution with a very high success rate, consider dental implants.
Over the last 50 years or so, implants have been successfully used to replace missing teeth all over the world.
Today, the ideal treatment for replacing missing teeth is through implant dentistry.
Kreativ Dental Albury offers dental implants, as well as dentures, to our patients.
What are Dental Implants?
A dental implant is an artificial root made of titanium. This root is inserted into the jawbone to replace the root of the natural tooth. An artificial replacement tooth, or crown, is attached to the implant, which acts as an anchor to hold the replacement tooth in place.
Benefits of Dental Implants
Work like natural teeth
One of the greatest benefits of a dental implant is that it restores full chewing ability. Most patients can't tell the difference between their natural teeth and implant. They can eat with it and brush and floss normally as well.
Can last a lifetime
Dental implants can last a lifetime. The implant is made from titanium and fuses with the jawbone. It's biocompatible, meaning that it's non-toxic and not rejected by the body.
Prevent bone loss
Bone loss occurs when there are no tooth roots that keep the jawbone stimulated.
Where there is no tooth, the jawbone in the empty space deteriorates due to lack of stimulation. If there's no implant placed in the first year of losing a tooth, that bone area loses its volume, and bone loss continues over the years.
Keep adjacent teeth stable
The gap left by a missing tooth can cause nearby teeth to shift towards the gap. This moves your teeth out of position and can affect your bite, your ability to chew and your appearance.
It can cause interference that makes replacing teeth difficult. A poor bite can also lead to problems with your TMJ and may result in pain and headaches.
Help keep you free of gum disease
A missing tooth gap can act as a trap for food and bacteria and can lead to gum disease.
Prevent facial sagging and premature aging
Facial sagging can be an effect of bone loss resulting from missing teeth. Changes can include wrinkles around the mouth, thinning lips and a more pointed chin, making the person look a lot older than their actual age.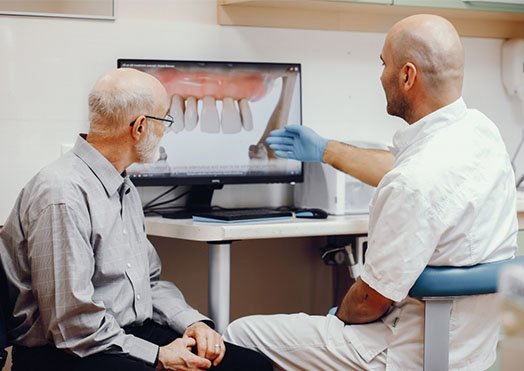 Implant Dentistry Procedure
Phase 1: Insertion of Implant
An implant is actually an artificial titanium root for your tooth. This titanium fixture is a biocompatible material that is lightweight and strong, which makes it ideal for insertion within the jawbone.
After placement, there is a follow-up appointment to assess the progress of your healing. This healing process takes approximately 3-6 months because it involves the jawbone fusing over the implant, which secures the implant in the bone.
Phase 2: Placement of Permanent Crown above the Implant
Once the bone has successfully attached to the implant, we are able to construct the crown portion.
A full medical history will be taken before any clinical procedures take place. Due to regulatory requirements, we must inform you that any surgical or invasive procedure carries risks. Before proceeding, you should seek a second opinion from an appropriately qualified health practitioner.
Dental Implants in Albury
Is implant dentistry right for you? Book a consultation with your dentist Albury today!
Give us a call on (02) 6021 4171 for more information. Request your appointment online.
We are located at 525 Wilson St in Albury.
Frequently Asked Questions
What are dental implants?
Dental implants are the most natural way to replace missing teeth. Made of titanium, they are designed to replace the root of missing teeth, providing support and stability for replacement teeth. They are the longest-lasting solution available.
Will it hurt much?
There is very little to no discomfort associated with the placement of a dental implant, and there is minimal to no swelling. General anaesthesia is available for those who choose not to be awake during the procedure.
Who is a good candidate for dental implants?
Almost anyone missing a single tooth, multiple teeth, or all teeth are candidates for dental implants. Talk to your Albury dentist about your specific needs.
How long will dental implants last?
They typically last longer than conventional dental work, as long as you take care of them properly, just like your natural teeth (floss, brush, etc.). When properly cared for and good oral health exists, dental implants can last a lifetime.