Dental Check-Ups
Routine Dental Check-Ups Can Prevent Future Dental Treatment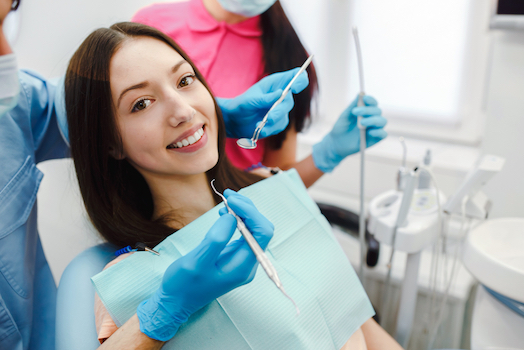 Dental Check-ups Albury
Are you behind on dental care and aren't sure how to get your oral health back on track?
We invite you to visit your Albury dentist at Kreativ Dental Albury.
Our patients know that we take the time to listen to their concerns and provide straightforward care that quickly addresses their needs without any surprises.
Why are Dental Check-ups Important
Routine dental exams help detect areas that could possibly lead to severe problems later on. For the most part, regular check-ups help maintain a healthy smile by focusing on prevention. You can take control of your dental health by having routine dental check-ups in Albury with Dr Vinayak Chowdhry and Associates.
By having your check-ups performed on a routine basis, you can prevent problems like advanced gum disease, untreated cavities, or broken fillings.
Dr Vinayak Chowdhry examines the health of each one of your teeth, as well as your other oral tissues, to ensure there are no existing or early forms of disease that can quickly progress into severe problems later on.
Not only does this minimise your treatment needs, but it also helps reduce your investment in dental treatment by cleaning your teeth and correcting problems when they are smaller while the treatments are less invasive.
How Often Should You Get a Dental Check-Up?
We recommend that all patients see a dentist at least twice a year for routine dental check-ups. This is the ideal frequency for removing tartar deposits from the teeth, conducting screenings, and intercepting any developing cavities since the last visit.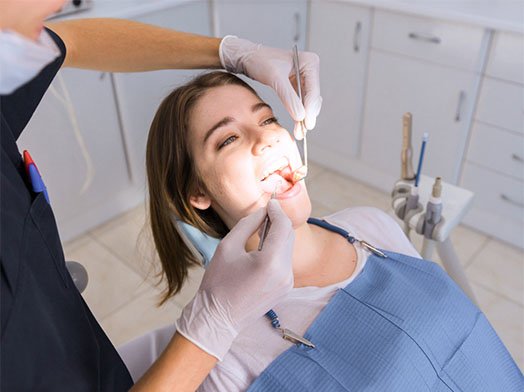 If it's been longer than six months since your last appointment, we invite you to visit our Albury clinic so that Dr Vinayak Chowdhry and his team of dental professionals can help you once again gain control over your oral health.
Most check-ups consist of:
Clinical Examination
Preventive Teeth Cleanings
Necessary dental X-rays
Preventive Procedures as needed (such as Fluoride or Sealants)
What Happens at a Check-Up?
Going back to the dentist for the first time can be a little unnerving. That's why we strive to make our patients feel as comfortable as possible and listen to their individual needs throughout the entire visit. From working around your busy schedule to discussing treatment options with you, Dr Vinayak Chowdhry is focused on individual, personalised care that exceeds your expectations.
As a new patient at Kreativ Dental Albury, you'll receive a comprehensive examination that not only addresses the needs of your teeth but also assesses the relationship of your bite, the anatomical health of your head and cheek, and screens for oral cancer. Our high-resolution digital radiography equipment allows Dr Vinayak Chowdhry to check for any pre-existing conditions while keeping your exposure to radiation extremely low.
If you have any concerns or treatment needs, Dr Vinayak Chowdhry will review each of these with you personally. We believe in attentive, considerate care that prioritises the individual patient's needs, not budgetary goals.
You'll have the option to select from various types of treatment, and we will make sure that you understand the pros and cons of each one, allowing you to make the final call in the type of treatment that you receive.
Dental Check-ups in Albury
Don't put off your routine exams; it can prevent dental disease progression.
Give us a call on (02) 6021 4171 for more information. Request your appointment online.
We are located at 525 Wilson St in Albury.
Frequently Asked Questions
How often should I go to the dentist?
Two dental visits a year are recommended for most patients. In a typical check-up, patients are seen by both a hygienist and a dentist. The hygienist cleans and polishes your teeth, talks to you about caring for your teeth, and answers your questions.
The dentist reviews the cleaning done by the hygienist, conducts an oral exam of your gums and teeth, diagnoses any oral health problems, orders X-rays (if appropriate) and make treatment recommendations. Check-ups are important not only for cleaning but to find any problems early.
Why do regular dental visits matter?
Regular dental visits are important because they can help spot dental health problems early on when treatment is likely to be simpler and more affordable. They also help prevent many problems from developing in the first place. Visiting your dentist regularly is also important because some diseases or medical conditions have symptoms that can appear in the mouth.
Why is flossing important?
Flossing is essential to your smile's health. Regular use of dental floss is important for plaque removal, maintaining healthy gums, and preventing periodontal disease. By removing food particles and bacteria that build up between teeth, flossing helps keep your smile healthy and beautiful for life.