Penthrox
Penthrox® — "Green Whistle"
Penthrox Albury
Penthrox is inhaled through a custom-built Penthrox inhaler and usually starts working within 6-10 breaths.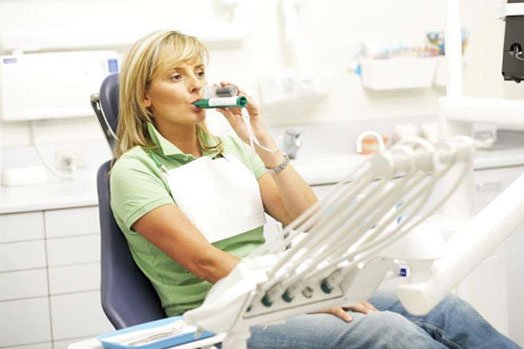 Penthrox removes both the fear of needles and pain because it can be inhaled and start to work almost right away. One 3 mL bottle of Penthrox provides approximately 20-25 minutes of no pain.
It is a clear, almost colourless liquid with a fruity smell that becomes a vapour or gas easily once it has been poured into the Penthrox inhaler.
It is a safe, convenient and effective means of providing pain relief to patients.
Kreativ Dental Albury provides all aspects of sedation dentistry care for different types of dental treatments to all patients at our Albury office.
How Does Penthrox Work?
With Penthrox, you are in control of the amount of pain relief needed.
Breathe through the mouthpiece, ensuring that the "dilutor" hole of the AC Chamber is not covered.
To ensure that you are used to taking in the Penthrox, your first few breaths should be gentle.
You can breathe through a chamber attached to the inhaler, or you can breathe out through your nose, whichever makes you comfortable.
Penthrox Sedation in Albury
You are not alone, and here at Kreativ Dental Albury, we focus on exceeding your expectations when it comes to gentle dental care.
With Penthrox, the patient is in control of the device and can use it as required and feels relaxed. Penthrox can be used in most dental treatments to relieve anxiety.
Through the sedation methods at Kreativ Dental Albury, we are able to fully equip you with the necessary treatment and procedures needed to achieve your ultimate oral health and step out of the surgery with renewed pride and vitality from your smile.
Give your Albury dentist a call on (02) 6021 4171 for more information. Request your appointment online.
We are located at 525 Wilson St in Albury.
Frequently Asked Questions
What is Penthrox?
Penthrox is a combination pharmaceutical agent, which can provide pain relief while at the same time making you feel relaxed and comfortable during your entire procedure.
Penthrox sedation not only allows the use of more intensive dental methods for efficient and fundamental oral health but also allows those people who feel that they need a variety of treatments carried out, both health and cosmetic related, to do so in comfort and confidence
How should I prepare if I choose Penthrox?
If you opt for Penthrox, you will need someone to drive you to our Albury practice and collect you after your procedure. Don't drive a vehicle, operate heavy machinery or conduct important business decisions/matters for a 24-hour period after your procedure.