Dental Crowns
Restore Your Teeth with A Permanent Crown
Dental Crowns Albury
Did you break a tooth? Is a large cavity forcing you to chew your food on the other side of your mouth? A dental crown is a restoration that preserves the weaker, internal portion of a tooth that has large areas of decay or fractures.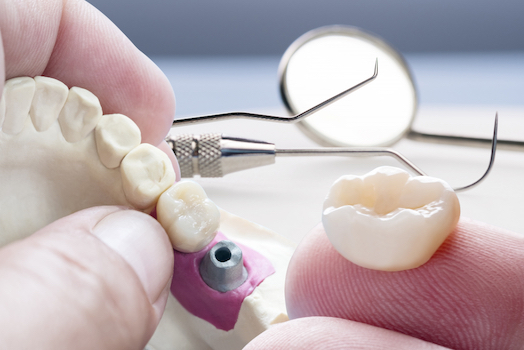 Crowns cover the entire surface of the tooth above the gumline, returning the structural integrity to the tooth so that it can once again function as normal.
After we repair your tooth with a dental crown, you'll be able to bite and chew just as you did before the tooth was damaged.
Because it covers the entire tooth, a crown protects the weaker areas inside the tooth that would otherwise soften, decay, or break apart.
The design of your crown will significantly affect the way your smile looks, so at Kreativ Dental Albury, we focus on aesthetics as well as general restorative treatment.
Cosmetic Dental Crown Options
Your crown designed by Dr Vinayak will match the colour of your adjacent teeth to ensure that your repaired tooth blends in and looks natural when you're talking or smiling.
Depending on the location of the tooth, your treatment needs and personal preferences, Dr Vinayak provides the option to have your crown made of porcelain. Kreativ Dental Albury patients love the way their new crowns look and know that we take the time to design teeth that reflect the quality of care you deserve.
Treatment appointments are typically broken up into two separate visits. At the first visit, Dr Vinayak will prepare the tooth by removing any broken or decayed enamel.
He then takes an impression of the tooth as well as the rest of your mouth to ensure that your new crown will fit and bite in proper alignment with the other teeth in your mouth. These models are sent to our off-site dental laboratory, where a custom-made crown is produced according to Dr Vinayak's specifications.
Within about two weeks, your permanent crown will be ready for you to try, and if it fits, you'll have it permanently cemented in place. Your visit is short and very comfortable, and as soon as it is completed, you will have a brand new, functioning tooth. We won't ever rush you out of the office, and you can rest assured that crown treatments will give you a reason to smile again.
Single Visit Dental Crown Option
Unlike the traditional method, Cerec uses a combination of infrared imaging, computer CAD-CAM design and a precise milling machine to help complete the entire process of making crown in about 2 hours from start to finish – all in one appointment!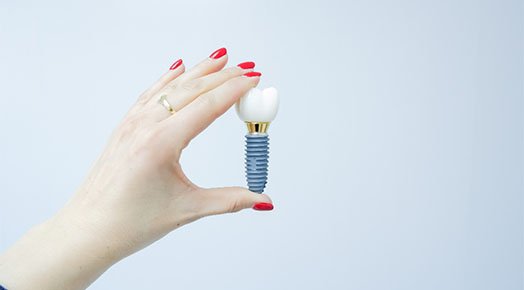 All of this means less time in the dental chair – half the number of appointments, fewer local anesthetic episodes, less tooth structure is lost in most cases and less chance for complications.
A crown is placed on a tooth when it is not possible to restore it with a filling. Fillings will only repair a portion of the tooth, but very large fillings cannot structurally withstand normal biting.
A crown will distribute pressure evenly over the entire restoration and protect the tooth from fracturing.
Crown Treatment Should Never Be Delayed!
Putting off treatment for a dental crown can allow weak tooth enamel to break apart, exposing the nerve or even fracturing the tooth beyond repair.
If you suspect that your tooth has broken or you have had a filling fall out, please call our office at your earliest convenience.
The quicker you seek out treatment, the more likely you are to be able to preserve your tooth.
A full medical history will be taken before any clinical procedures take place. Due to regulatory requirements, we must inform you that any surgical or invasive procedure carries risks. Before proceeding, you should seek a second opinion from an appropriately qualified health practitioner.
Dental Crowns in Albury
Call dentist Albury today, and let us help you repair your teeth so that you can get back to enjoying a healthy smile!
Give us a call on (02) 6021 4171 for more information. Request your appointment online.
Frequently Asked Questions
What is a dental crown?
A dental crown is a tooth-shaped "cap" that is placed over a tooth — covering the tooth to restore its shape and size, strength, and/or to improve its appearance.
The crowns, when cemented into place, fully encase the entire visible portion of a tooth that lies at and above the gum line.
Why is a dental crown needed?
A dental crown may be needed in the following situations:
To protect a weak tooth (for instance, from decay) from breaking or to hold together parts of a cracked tooth
To restore an already broken tooth or a tooth that has been severely worn down
To cover and support a tooth with a large filling when there isn't a lot of teeth left
To hold a dental bridge in place
To cover misshapen or severely discoloured teeth
To cover a dental implant
Does a crowned tooth require special care?
While a crowned tooth does not require any special care, remember that simply because a tooth is crowned does not mean the underlying tooth is protected from decay or gum disease.
Therefore, continue to follow good oral hygiene practices, including brushing your teeth at least twice a day and flossing once a day-especially around the crown area where the gum meets the tooth.