Sleep Dentistry
Overcoming More than Fear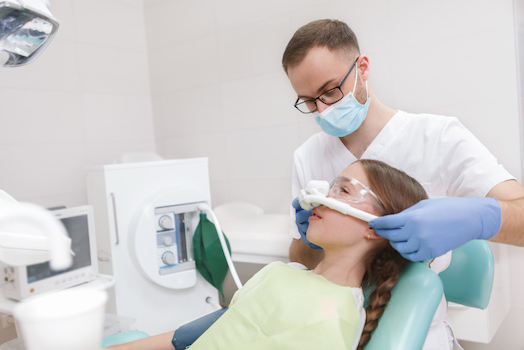 Sleep Dentistry Albury
For some patients, a trip to the dentist can create a sense fear or panic. With sleep dentistry, there's no need for you to worry.
Sleep dentistry allows patients to receive pain-free treatments while they're under sedation, making it the perfect solution for those with dental phobias, anxiety, a very low pain tolerance, a strong gag reflex, a fear of needles, or for those requiring complex procedures.
There are a variety of sedation types to suit your dentistry needs.
There are three levels of sedation, namely:
Minimal Sedation: You will be awake throughout the process, but you are relaxed.
Moderate Sedation: Also known as conscious sedation. It is characterised by loss of memory and slurred speech.
Deep Sedation: This is different from the two as one is usually at the edge of consciousness but still awake.
General Anaesthesia: You will be completely unconscious throughout the procedure. You will not remember anything that happens while undergoing the dental procedure.
A full medical history will be taken before any clinical procedures take place. Due to regulatory requirements, we must inform you that any surgical or invasive procedure carries risks. Before proceeding, you should seek a second opinion from an appropriately qualified health practitioner.
Sleep Dentistry in Albury
Sleep dentistry is not only beneficial for managing fear and anxiety in people of all ages. It is also an invaluable approach for those with disorders that can make dental care hard.
If you would like to learn about sleep dentistry and how it can be beneficial for you and your loved ones, contact us for more information.
Give your Albury dentist a call on (02) 6021 4171 for more information. Request your appointment online.
We are located at 525 Wilson St in Albury.
Frequently Asked Questions
What is sleep dentistry?
Sleep dentistry is mainly used for patients with phobia's, anxiety or those having difficulty in staying in a dental chair and coping with dental treatment.
What are the main benefits of doing sleep dentistry?
The main benefits of sleep dentistry include:
longer treatment times, and hence the maximum amount of treatment done in one appointment
no or very little memory of the procedure
Is sleep dentistry safe?
As with any medicine, anaesthesia and sedation medicines come with risks. However, with proper precautions, sleep dentistry is quite safe. Your Albury dentist will discuss any risks related to your medication with you in advance of the procedure.