Cosmetic Dentistry
Creating Beautiful Smiles for Life!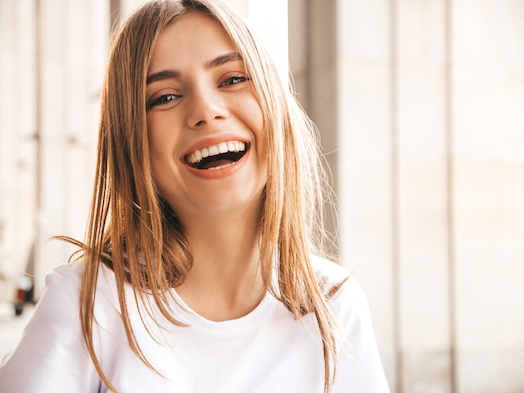 Cosmetic Dentistry Albury
We believe that a beautiful smile can last for life.
Cosmetic dentistry is the method of dentistry that improves a patient's smile and self-image.
Having an attractive smile and strong teeth are essential for many reasons — aesthetically and in relation to overall health.
An attractive smile, or lack thereof, affects your oral health. In addition, self-confidence and how the world perceives you on the outside are also impacted.
This is because a person's smile is usually the first feature anyone notices.
Cosmetic Dental Care at Kreativ Dental Albury
If the correct care and attention is taken in its upkeep, we know that a beautiful smile can be the single greatest feature in your level of cosmetic appeal.
At Kreativ Dental Albury, we offer modern cosmetic dentistry treatments for all our patients to enjoy.
Our Cosmetic Dental Services Include:
Whether you want a brighter, whiter smile or want to completely re-do your entire look with veneers and bonding – your Albury dentist can help you achieve your goals.
Are you interested in getting a better smile? Contact Kreativ Dental Albury today to learn more about our cosmetic dental procedures and to schedule a consultation.
We'll show you which procedures will fit your needs best!
A full medical history will be taken before any clinical procedures take place. Due to regulatory requirements, we must inform you that any surgical or invasive procedure carries risks. Before proceeding, you should seek a second opinion from an appropriately qualified health practitioner.
Cosmetic Dentistry in Albury
If you have any further questions about the range of cosmetic treatment options available to you at Kreativ Dental Albury.
Give us a call on (02) 6021 4171 for more information. Request your appointment online.
We are located at 525 Wilson St in Albury.
Frequently Asked Questions
What is cosmetic dentistry?
Cosmetic dentistry is focused on enhancing the general appearance of teeth. It gives your smile the makeover that it needs to bring out a better-looking you. It can significantly boost your self-esteem.
Who is eligible?
Most people who aren't happy with their smiles are eligible for cosmetic procedures. If there is an infection in the mouth, it would need to be cleared before any procedure begins. Any person who has missing, cracked, or unhealthy teeth may wish to rejuvenate their smile with cosmetic dentistry procedures.
What common dental problems are suitable for cosmetic dentistry?
If you have broken or chipped teeth, your dentist can correct them through restorative dentistry.
However, you may visit the dentist for cosmetic purposes if you have any of the following concerns:
stained or discoloured teeth
gaps in between teeth
uneven teeth
worn-down teeth
excess gum tissue