Broken Dentures
Same-Day Dental Emergency Appointment Available in Albury
Broken Dentures Albury
Broken dentures are among the most severe dental emergencies, particularly for elderly patients.
Talking and chewing might be challenging if your dentures break.
At Kreati Dental Albury, we guarantee the functionality of your restorations and the health of your natural teeth.
We are here to help you if your dentures break for whatever reason.
We provide same-day emergency care so you can get back to smiling sooner!
Causes of Denture Breakage
Denture breakage can be caused by several factors, including:
Natural wear
Dentures are not an exception; all dental restorations eventually wear out. Despite being built to last, they may become worn out after a while of eating, biting, grinding, and other teeth-related activities.
Accidents
Accidents may happen at any time. One instance is when a denture breaks after being dropped while being cleaned. Accidents can occur to even the most careful person.
Improper Use
Your dentures are restricted. It would help if you carefully used them with additional care to get the most out of them. For instance, mistreating or utilising your dentures for purposes other than intended could result in damage.
Ill-fitting Dentures
Bone loss or subpar dental work may cause poorly fitting dentures. Visit your dentist right away if you have any discomfort with your dentures.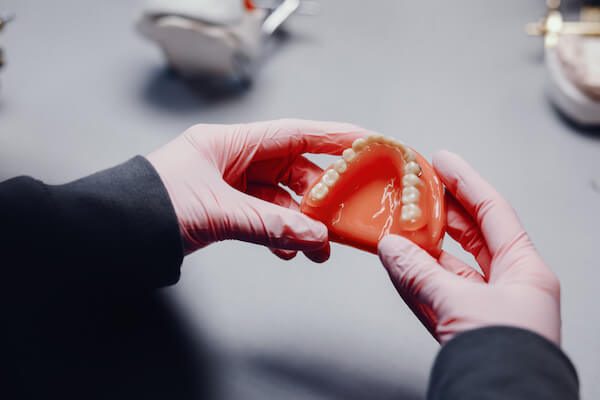 What Your Albury Dentist Can Do?
Dentures are a good option for replacing lost teeth, but dental implants are a superior choice due to their durability and realistic appearance.
High-quality, long-lasting dental implants are available from Kreativ Dental Albury to replace missing teeth.
Dental implants may last a lifetime with proper maintenance if taken care of for many years. Long-term expenditures may be reduced compared to dentures, which require replacement more frequently.
Broken Dentures Repair in Albury
Visit your dentist right away for repairs if your denture breaks.
Your denture might be repairable by us. At your emergency consultation, we will provide you with advice on all of your alternatives.
Call your Albury dentist as soon as possible if there is an emergency.
Same-Day Dental Emergency Appointment Available in Albury
For dental emergencies in Albury, call us on (02) 6021 4171 or book your appointment online.
We are located at 525 Wilson St in Albury.
Frequently Asked Questions
Can I still wear broken dentures?
DO NOT WEAR BROKEN DENTURES. Small pieces can be eaten, and they can irritate or harm oral tissues.
Can I repair my broken dentures?
NO, as repairing your dentures can end up making things worse. Proper denture repair is only possible with a dentist's expertise, experience, and specialised tools.
If you fix your denture on your own, we might not be able to fix it in the office.
When should I visit the dentist if my dentures break?
As quickly as possible. Never use dentures that are damaged. Your mouth may get cut from this.
What can I do to prepare for dental emergencies like broken dentures?
Pack an emergency dental-care pack that includes the phone number of your Albury dentist.
Gauze
A little container with a cover